The 2020 Jeep Gladiator Makes a Bold Statement in the Salida Area
Whether you enjoy the wind in your hair, bouncing down a trail, hauling gear from one adventure to the next, or just knowing you have the ability to do each of those things, the all-new Jeep Gladiator has something to offer you. Jeep has combined its iconic look with innovative technology and a nod to a piece of the rich and rugged history of Jeep brand vehicles. Jeep first introduced the Gladiator full-sized truck line in 1962 and continued to produce these trucks until 1987; though referring to them simply as J-series trucks after 1971. 
Fast forward 30 years later, to a time when electric vehicles are gearing up to attack the truck market head-on. This mid-size truck has been named best in class for 2020 and is truly worthy of the name "Gladiator".  With 1,600 pounds of payload capacity and up to 7,600-pound towing capacity, the fun can last for days and days. The 2020 Jeep Gladiator offers a significant amount of versatility, whatever your project or plans may require. 
The attention to detail on this platform is impressive and our sales team would love the chance to point all of them out to you during a walk-around or a test drive in the Penrose area. Read on for a little taste of what you can expect to see here at City Auto Plaza.
Safety Feature
In an age when safety technology has improved by leaps and bounds, the all-new Jeep Gladiator offers the latest in safety technology. The Gladiator includes the features that you have just come to expect, like tire pressure monitoring, front and side airbags, child car-seat latch anchors, and anti-lock braking.  There are also a lot of features that you may not expect, especially on a rugged off-road vehicle.  
Standard features include electronic hill start assist, roll mitigation, stability control, and trailer sway control. Jeep brand vehicles feature options with both radar and sonar-based sensors that provide additional safety features to help keep you and the vehicle safe. These sensors monitor blind-spots and detect obstacles in front of and behind the vehicle, causing the vehicle to immediately respond and help to keep you from being involved in an accident.  
The 2020 Jeep Gladiator also boasts forward- and rear-facing cameras, so you know what is coming regardless of the direction you may be headed.  The forward-facing camera, which has many uses both on and off the road, acts as a built-in spotter when the trail gets rough. 
Beyond these visible features, the truck chassis itself is made from high-strength steel which, in the event of an accident, has been designed to drive energy away from passengers and the cabin. This last feature is especially important, given that the Jeep Gladiator seats up to five people in the Pueblo West area. 
Technology/Interior
The Jeep Gladiator look and feel is so unmistakably Jeep SUV and unmistakably truck, you may not notice that it is packed with the latest in automotive gadgetry until your first time behind the wheel. Jeep brand vehicles are renowned for customization and the features on this truck are no different. 
All of the Gladiator's systems can be accessed and programmed through an optional seven- or 8.4-inch touchscreen monitor, depending on the trim package selected. You can also access many of these features through voice commands, with the use of the Uconnect® system which comes standard on each Jeep Gladiator. 
If that isn't enough tech for you, an option is available for you to connect remotely to your truck through the SiriusXM Guardian mobile app. The Gladiator also includes creature comfort technologies, including: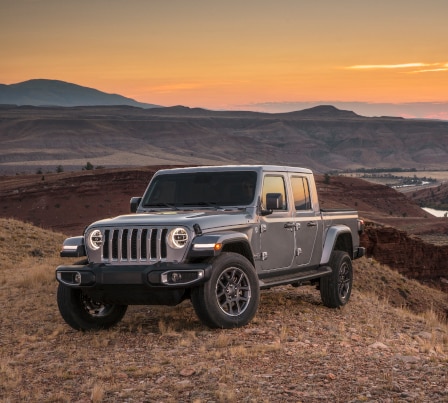 Dual-zone temperature control
 
Programmable heating for the front seats and steering wheel
 
Keyless Enter'n Go, offering completely keyless entry with a key fob
You will also enjoy the functionality of the optional portable Bluetooth® speaker that is integrated into the truck bed. It charges while you drive and is water resistant up to 30 minutes in three feet of water. Even without the bells and whistles, the interior itself is a masterful integration of function and luxury; stylings easily recognizable from the Jeep JK, JL, and JLU product lines.  There are up to four different interior colors to choose from in either cloth or leather, depending on the trim package Florence area shoppers choose.
Trim Options
The Jeep Gladiator is offered in four different trim packages: Sport, Sport S, Overland, and the legendary Rubicon.  Whether you want leather seats, leather-wrapped controls, or mud terrain tires - the Jeep Gladiator has the package for you. The Sport and Sport S are the base models and boast a max towing capacity of 7,650 pounds. The Sport S includes options for a seven-inch touchscreen monitor and remote start, available in conjunction with the eight-speed automatic transmission option. 
The Overland trim package features an upgraded suspension package and the seven-inch touchscreen monitor as standard. The Rubicon package includes a performance suspension package yielding an additional one inch of ground clearance, heavy-duty part time 4WD, and 33-inch tires as standard; with optional blind-spot monitoring, cross-path detection, and ParkSense rear park-assist systems. 
Test Drive the All-New 2020 Jeep Gladiator
Send an email or just come down to City Auto Plaza in Canon City to see how we can help you start building your very own Jeep Gladiator today.